REGARDING LONE
An orphan teenager succeeds in getting away from a treatment center. She flees from the institution, her foster parents and the authorities, and ends up with a group of anti-authoritarian young people in Copenhagen, the hippies of '68. They turn out to be as self-centred as all the other people. She becomes pregnant with her boyfriend, but chooses an illegal abortion. There seems to be no place for her to feel at home. She is everlastingly on the run.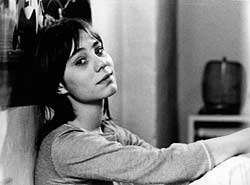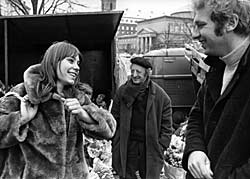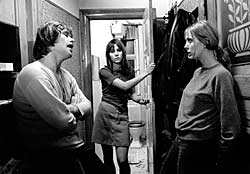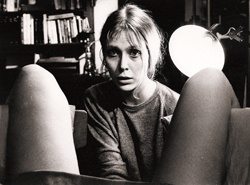 Script: Charlotte Strandgaard, Franz Ernst
Cast: Pernille Nørgaard, Steen Kaalø
Cinematography: Peter Roos
Music: Gasolin' and Fuzzy
Bodil Award for best Danish film 1971
Film Critics' award, Berlin 1971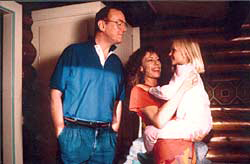 DOMINO
An elderly member of the Danish nationalist resistance of WW II plots to prevent a pacifist politician from becoming the foreign minister of the country. He persuades a young photographer to go spying with his camera, in order to reveal the politician's problems with alcohol. The photographer gets involved, but goes beyond the plan and works on his own. His attempt fails. Everything goes wrong. The pacifist politician ends up becoming a murderer.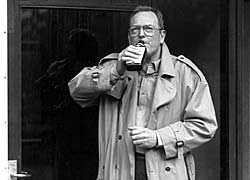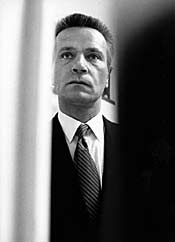 Cast: Henning Moritzen, Jesper Langberg
Script: Anders Bodelsen, Franz Ernst
Cinematography: Ole Schultz
TV-series
Danmarks Radio 1991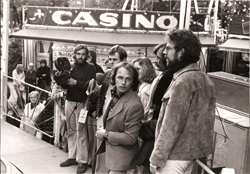 THE DOUBLE MAN
The moralistic and self-repressive Christian is constantly in conflict with his unscrupulous younger brother Mikael. During a staff party the younger brother accidentally falls to his death. Although innocent, Christian unconsciously takes the guilt on himself. He starts searching into the secret life of his younger brother, and finds himself mixed up in criminal circles.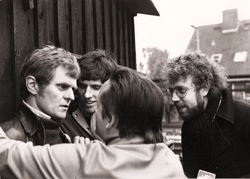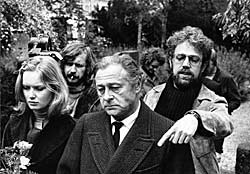 Script: Kirsten Thorup, Franz Ernst
Cast: Erik Wedersøe, Peter Belli, Poul Reichhardt, Lane Lind, Lotte Hermann
Cinematography: Dirk Brüel
Music: Fuzzy
Steen Herdel Film 1976
A WORLD TURNING PALE
Two girlfriends finish high school and are confronted with the adult world. What to expect from life? The wealthy father of one of the girls provides her with a job. It turns out to be the job of her best friend. She cannot stand the idea of having put her best friend out of work. Her life starts falling apart.
Script: Astrid Saalbach
Cast: Pia Vieth, Trine Michelsen, Helle Merete Sørensen, Martin Rode, Dick Kaysø
Cinematography: Henrik Herbert
Danmarks Radio 1983
THE HUNTERS
Three men spend a weekend in a cottage by a lake in the woods and go shooting. During the night they realize that two of them are having a love affair with the same woman. Jealousy blazes up and becomes fatal.
Script: Jørgen Ljungdalh
Cast: Søren Spanning, Torben Jensen, Claus Strandberg
Cinematography: Henrik Heger
Music: Keith Jarrett
Danmarks Radio 1983
THE COMET
A professional football player comes to the end of his career and returns to a life of decline in his provincial home town. Everything seems to be lacking in substance and meaning. How is he going to find a new direction for his life?
Script: Jens Smærup Sørensen
Cast: Asger Reher, Sonja Oppenhagen, Morten Eisner, Louis Miehe-Renard
Music: Hans-Erik Philip
Danmarks Radio 1986
THE MEN'S UNION
After throwing rolling pins and whatnot at their husbands, the women have left their husbands back in town, and are spending sunny and funny days in a camp while their husbands take over all boring duties of daily life. The men send a brave negotiator who approaches the camp with a white flag raised above his head.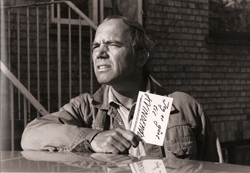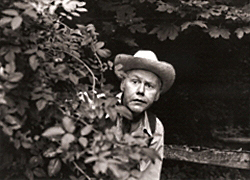 Script: Kristen Bjørnkjær
Cast: Preben Kaas, Lars Knutzon, Lone Kellermann, Otto Brandenburg
Cinematography: Henrik Heger
Danmarks Radio 1981
THE MARKSMAN
Journalist Niels Vinter argues against the construction of the first nuclear power plant in Denmark. The consequences of an accident would be enormous. In a heated TV debate he happens to express himself rather categorically: 'to save the lives of many it might be necessary to sacrifice the lives of a few'. Somewhere in Copenhagen there's a man who agrees. He is an outstanding marksman and can act and not just talk. Through Niels Vinter he sends a message to the public: 'Every day until you stop your insane plans, I'm going to shoot one person.' When he kills his first victim the suspense builds up. Who is this marksman? Where is he hiding? What's he going to do next?
Script: Anders Bodelsen, Franz Ernst
Cast: Peter Steen, Jens Okking, Pia Maria Wohlert, Ebbe Langberg
Cinematography: Mikael Salomon
Music: Ole Schmidt
Steen Herdel Film 1977
PEACE IN PRIVATE LIFE
A successful young politician becomes involved in an enigmatic case of hidden surveillance. Who is watching whom? He disappears during a trip to a distant part of the country, and his wife tries to track him down. She feels increasingly lost in an unfamiliar, unfriendly and mysterious province.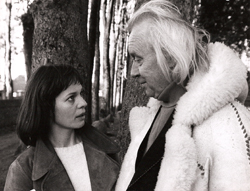 Script: Klaus Rifbjerg, Franz Ernst
Cast: Frits Helmuth, Annelise Gabold, Torben Hundal, Louis Miehe-Renard
Cinematography: Flemming Jensen
Danmarks Radio 1972
INTERRUPTED MEETING
At a company conference the black sheep and scapegoat of the firm confronts the boss. A cool-headed colleague tries to prevent the conflict from exploding. The meeting is interrupted, and the crisis accelerates. Will the stubborn fellow stay in his job – will he ever learn?
Script: Jens Smærup Sørensen
Music: Keith Jarrett
Cast: Claus Strandberg, Lars Knutzon, Jesper Langberg, Poul Bundgaard
Danmarks Radio 1982
1st Award, Plovdiv, Bulgaria
DR. LEMMA'S PROBLEM
Somewhere, a long way into the future, all feelings are positive in the Good World, and all problems have been solved. Dr. Lemma feels rebellion against his own controlled and rational life. He longs for the Beautiful World. Through his 'electroscope', he can see Bogart and Godard films, and scenes from Shakespeare and Tchekov. This for him is the Beautiful World, where feelings fiercely and frantically unfold; where there is romance and high drama. All this has been taken away from the Good World.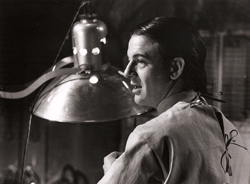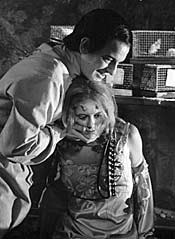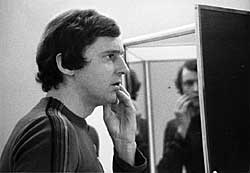 Script: Svend Åge Madsen
Cast: Peter Steen, Inge Jensen, Henning Jensen, Tommy Kenter
Music: Fuzzy
Danmarks Radio 1974
HAND OF FIRE
Suspicious persons appear in the park of the manor. Are they thieves or terrorists? Suddenly a violent explosion breaks the silence. But this is not a bomb. It's the chief pyrotechnics expert of Tivoli Gardens in Copenhagen, who is preparing his poetic fireworks. All the elegantly dressed people are entranced. Short fiction.
Short fiction
Cinematography: Dirk Brüel
Luna Film, Statens Filmcentral 1995
MIKKEL'S MOTIVES
Mikkel is ambitious and dreams of promotion in the firm. He and his wife are invited to a dinner at the boss's home, but during dinner Mikkel's wife finds him so servile that she feels she has to punish him. She disappears into a dark corner of the garden with the boss. Mikkel searches for her in despair.
Script: Ib Lucas
Cast: Thomas Eje, Rikke Wølck, Hans Christian Ægidius
Danmarks Radio 1985
THE TROUBADOUR
Even an extra in The Royal Opera can feel on equal terms with the opera stars. This extra has no sense of occasion, and believes that he himself will one day be one of the stars. In the long run he has to realize that trees do not grow to the sky. Not for him at least.
Script: Peter Ronild og Peter Steen
Cast: Peter Steen, Peter Ronild, Lane Lind
Danmarks Radio 1976
ARITHMETIC
A young working class couple dream of a better television set, a bigger ca… a holiday trip to the Alps. When they draw up a budget they realize that they cannot even afford to have a child.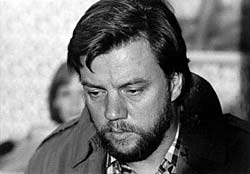 Script: Franz Xaver Kroetz
Cast: Lene Tiemroth, Morten Grunwald
Danmarks Radio 1973
JIMMY
Jimmy the video nerd is so obsessed, day and night, with his projects that he loses his job and drives his wife crazy. She breaks down and takes refuge in the locked ward of an asylum. Jimmy goes to see her, meets a manic violin genius there and helps him to escape. A mad comedy.
Script: Jørgen Ljungdalh
Cast: Jannie Faurschou, Hugo Øster Bentsen, Benny Poulsen
Danmarks Radio 1986
CINDERELLA
A teenage girl feels different from the others, an outsider, superfluous. By the time her parents realize that she wants to commit suicide, she's already on her way to Storstrømsbroen, a bridge in southern Denmark, to carry out her plans. There's a railway over the bridge, and the waters are full of swift currents.
Script: Leif Petersen
Danmarks Radio 1992
A HUSBAND
He has recently divorced and has found a new love. But when his ex-wife also finds a new lover, who is cold and rough with their two small children, it is difficult for the ex-married couple to cope with the situation.
Script: Peter Steen
Cast: Ulf Pilgaard, Helle Hertz, Sofie Lunøe, Ib Mossin
Danmarks Radio 1975
THE WORSE THE BETTER
A black and insane comedy on riches, poverty and rebellion.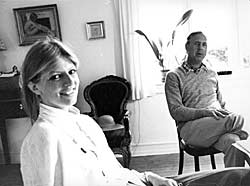 Script and lyrics: Suzanne Brøgger, Svend Åge Madsen and Klaus Rifbjerg
Music and songs: Fuzzy
Cast: Jesper Christensen, Lily Broberg, Preben Neergaard
Danmarks Radio 1975
IN DENMARK I DIED
A number of life-paths are told in poems and stories by well-known Danish authors and poets:
Tove Ditlevsen, Klaus Rifbjerg, Tage Skov-Hansen, Sandra Holm, Lean Nielsen m.fl.
Danmarks Radio 1972
MURMEL
He loves her, but she's married and cannot make up her mind to leave her husband. It can only lead to a sad and painful ending.
Cast: Lotte Hermann, Claus Nissen
Cinematography: Claus Loof, Henrik Heger
Filmbranchens og Danmarks Radios Workshop 1965
DARKNESS
A young man meets Death in the guise of a black woman. Experimental film.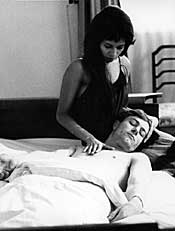 Script: Per Sibast
Cast: Juliette Montague, Baard Owe
Cinematography: Claus Loof
Private production 1964